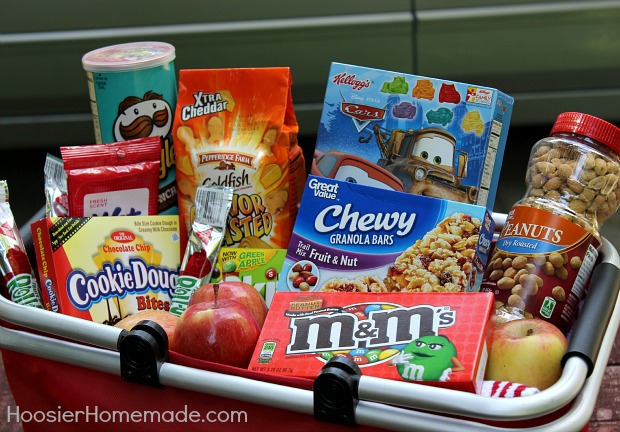 The good ole family road trip. The good ole open road. Many families still enjoy taking summer road trips every year. Wide open spaces, interesting landmarks, and the snacks of the open road. Driving hours to the mountains, beach, or some other exquisite destination. Why is it that on a road trip we always seem to be perpetually hungry? Is it because we are bored? Is it the smells of delicious dives, bakeries, or restaurants you pass on the highway? Whatever it is that sparks the appetite, it can never go untamed on a road trip. Especially true if you have children along for the ride, is the fact that no one likes to go hungry. Also constantly stopping every time someone is hungry or has a craving can be time consuming and expensive. There are many great ideas for snacks you can pack along for the long trip ahead. It is cost effective and time effective as well to bring items with you. Also another essential on the road trip, the cooler. Always pack the cooler with ice, to keep drinks chilled, or lunch meat cold. Whatever the case, a cooler is essential.
When people are packing for road trips, fruits and vegetables really aren't the first snack to come to mind. It is a healthy and cheaper alternative to junk food purchased at gas stations every time you stop. Not only will it not hurt your waistline, but it is easy on the wallet as well. Grapes, apples, bananas, raisins, carrots, cucumbers, and berries just to name a few. You enjoy them at home, why not enjoy them on the open road? Keep in mind to choose the less messier fruits, avoiding oranges that need to be peeled. You could even peel the oranges at home before leaving and pack the slices. Fruits and vegetables are healthy and satisfying alternatives to all the junk food along the way. Melons can even be balled ahead of time at home with a melon baller, and make a delicious snack with cute little balls.
Cheese and crackers sound simple but delicious. There are so many possibilities when it comes to the simple classic of cheese and crackers. With so many varieties of cheese and different brands and flavors of crackers on the market today, they make filling and affordable snacks as well. You can buy the pre-sliced cheese or slice the cheese yourself before leaving home. The cooler comes in handy when keeping the cheese cold. Crackers can be mixed and matched. You can also store them in a Tupperware container to prevent them from breaking or getting smashed.
Sandwiches come in handy when those road trip nibbles aren't filling or satisfying enough. Sandwiches can be pre-made at home and packed along. Or if your cooler is big enough you can pack the bread and all the fixings. There can be of all varieties from PB&J to ham & cheese. Cutting the sandwiches in little squares works great with sharing and portion control.
If you aren't looking to lug around a cooler though, there are really great snack foods that don't require refrigeration on a road trip. Granola bars are an excellent choice for any age. Delicious and filling, granola's come in a wide variety of flavors and variations from chocolate chip to berry. Also your favorite morning cereal without milk can be packed in little sandwich bags, such as Cheerios, Fruit Loops, or Cinnamon Toast Crunch. Shelled nuts and dried fruits are also good combinations. Cashews, roasted peanuts, almonds are salty and crunchy. Dried cranberries, bananas, blueberries, and apricots don't have to be kept cold and keep well on road trips.
For the best snacks on road trips, think of your favorite things you enjoy at home and if they wouldn't be messy when eating in a car. Make a list of items that don't require to be chilled and last a while. Also dry items are always a good idea. Always separate items for kids in individual lunch bags so there's no fighting and spilling. The best snacks are the favorite ones you can bring from home that keep you satisfied on those long road trips.
Source:
Image Credit