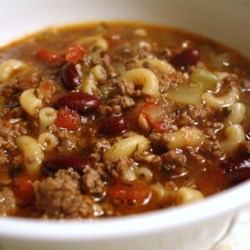 Easy Pasta e Fagioli
This was my mom's recipe. Neopolitan born. Easy and quick but very authentic and good.
Serves 4
1 pound linquini pasta
1 10-ounce can cannolini beans
1-ounce olive oil
3 cloves garlic, sliced
Handful of fresh parsley, washed and chopped
1 tablespoon tomato sauce
Salt and pepper to taste
Begin boiling water for pasta. Meanwhile, place the beans with liquid into a saucepan. Fill the empty bean can approximately 1/3 high with water and add to the pot. Add remaining ingredients, stir and allow to come to gentle boil. Lower heat and allow to simmer until the mixture begins to reduce a little and thicken a bit. About 15 to 20 minutes. Cover and set aside. Cook pasta according to package directions. Drain well and pour the bean mixture into cooked drained pasta, toss, let stand five minutes and serve. Garnish with grated Parmesan cheese if desired.
Source:
Image Credit